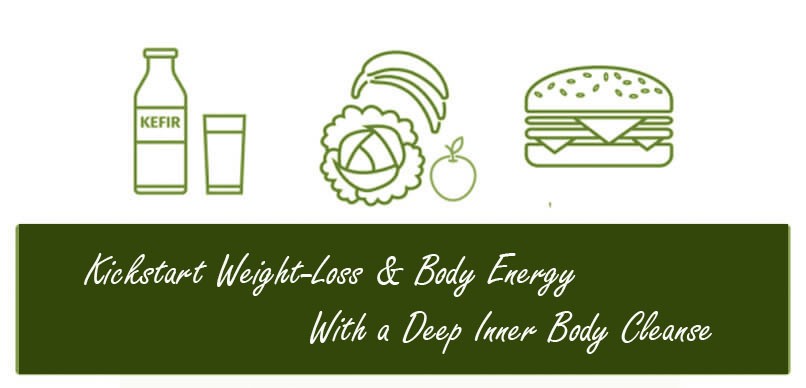 Inchloss Detox Body Wrap ™
Inchloss Detox Body Wrap ™ is a highly advanced combo treatment designed to eliminate unwanted superfluous inches from the body naturally and effectively in less than 90 minutes by targeting two major eliminatory organs, the skin and the gut.
Just why it is that the body seems to bloat and feel heavy at the exact time when you are planning to look your absolute best . We all want to look and feel slim and light before a much anticipated holiday, in advance of a wedding or just when you had it in your mind, that looking and feeling light and slim was your goal. And now you can.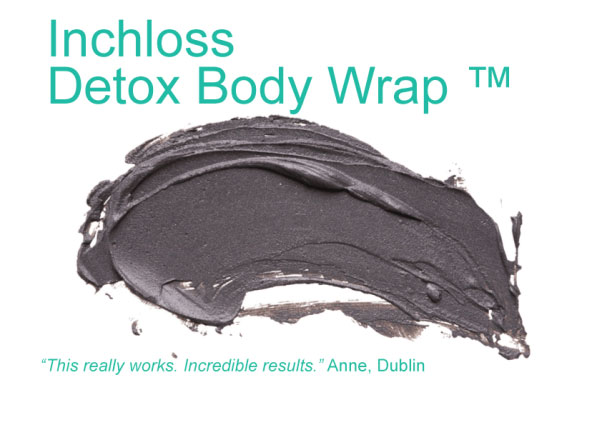 What Causes Bloating and Heaviness?
The truth is that there are many factors that cause bloating and heaviness and very often they go deeper than an ordinary wrap can target. Common bloating factors are; the intake of salt, alcohol , imbalanced gut flora and the imbalanced cultures such as Candida in the bowel. Other deep internal factors are gas, bloating and impacted fecal matter in the bowel. But there are also hormonal factors to consider. Some food intolerances cause hormonal imbalances which lead to instant bloating and weight gain. Many Contour Body Wrap systems, are ill equipped to work on such inner problems, because the solution is applied only to the skin. It is true that some toxins and fluid can be released via the skin but that process is accelerated greatly when the inner body is also cleansed.
Inchloss Detox Body Wrap ™ Is Different
That's because Inchloss Detox Body Wrap ™ works in distinct 2 ways. Unlike any other body wrap system, Inchloss Detox Body Wrap targets both the inside body (gut) and the outer body (dermis) to remove bloating and boost the elimination of unwanted fat and toxins.
What Happens During Inchloss Detox Body Wrap ™?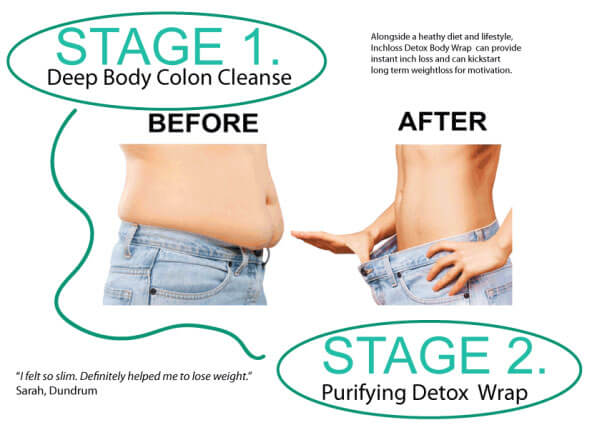 Stage 1:
When you undergo Inchloss Detox Body Wrap ™, exclusively at Dublin Vitality Centre, you will benefit from colonic hydrotherapy, using the advanced Harley Street Method followed by a deep penetrating body wrap made of the finest natural ingredients. Forget everything you ever heard about colonic hydrotherapy because The Harley Street Method is not the same. During this exclusive new treatment, you will experience the profoundly life changing benefits of deep body cleansing without any loss of privacy. That is the main difference but there are more. Tubes are considerably smaller than traditional methods of colonic hydrotherapy. There is no smell, and a disposable tube (which is approximately the size of the tip of a pen) is inserted approximately 1 inch into the body. Many clients prefer to do this themselves and with his exclusive new system, that is possible. A flow or purified filtered ionised water is introduced into the body and is gently released taking with it years of impacted fecal matter, impacted gas, toxins and hormonal build up from alcohol, drugs and impure foods.
Optional Extra: You may also choose to upgrade the treatment by having a liver coffee enema specifically target and cleanse the liver at this point. This is highly recommended to anyone who leads a party lifestyle or is exposed to drugs or alcohol regularly.
Stage 2:
A mineral wrap is applied to the skin. Whilst you lie comfortably on 28LBS of heated amethyst crystal, the Inchloss Detox Body Wrap ™ wrap solution is warmed and applied to the body including problem areas such as thighs, stomach, waist, hips and upper arms. The deeply nourishing natural minerals which are harvested from natural volcanic lava fields in the arctic, activate the metabolism, hydrate and nourish the skin, reduce water retentions and further remould the body's silhouette. This further boosts the elimination of toxins which lead to weight gain and bloating and boosts the metabolism.
Before You Book Inchloss Detox Body Wrap ™, please note that the following conditions are contra-indicated which means it will not be possible to provide the treatment to you if you have any of them:
Deep vein thrombosis
Any circulatory disorder
Hernia
Recent pregnancy (past 6 months)
Current pregnancy
Any recent abdominal surgery
If you have any other condition, please notify us in advance of your treatment or when booking.
Please fast 2 hours in advance. Avoid gym and alcohol for the rest of the day if possible.
FREE GUT HEALTH GUIDE
If you are interested in reading more about Gut Health, we offer a FREE book by author and founder of Vitality Centre clinics, Frances Flannery. Lets Talk About Happiness - The Ultimate Guide To Gut Health - is for anyone who wishes to learn how this humble organ has a profound and major influence on overall health and is intrinsically linked to mood.