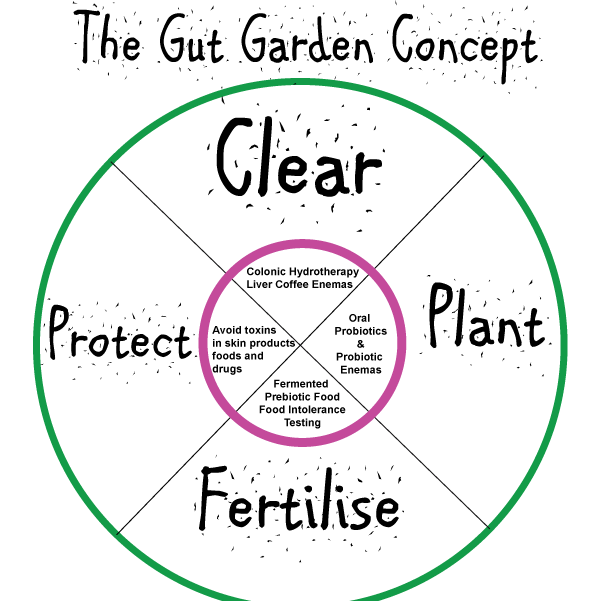 The Gut Garden Concept
SINCE 2008
It is now accepted that many skin problems, mood issues, weight problems and illnesses start in the gut and bowel. It is also accepted that everyone in the western world has imbalanced gut flora due to wide spread and incorrect use of anti-biotics. Clear the weeds before planting the seeds. There are four steps to natural functional gut health based on The Gut Garden Concept. The first is to clear your gut garden of imbalanced gut flora like candida and toxins. This is done using the advanced Harley Street Method of colonic hydrotherapy which offers privacy and the assurance of FDA approved med II equipment. Clearing and cleansing the liver and colon with colonic hydrotherapy and liver coffee enemas can boost the metabolism, remove eye bags, reduce bloating, improve skin problems like acne and kick start weight loss due to increased hydration. The second stage is to replant your gut garden with probiotics and to identify food triggers which may be causing skin problems, bloating, mood imbalances and weight gain. According to acclaimed author and physician, Dr. David Perlmutter, the best way to replant gut flora is with probiotic enemas. Taking oral probiotics and having direct gut flora probiotic enemas is recommended. The third step is to maintain and fertilise the gut garden with prebiotic foods such as kimchi and kombucha. These fermented foods feed the good gut flora in your bowel. The fourth stage is to protect the gut garden and the bowel from further imbalancing substances. It is accepted that transdermal absorption can increase by 1000% times during aesthetic skin treatments which is why holistic natural skin products are used to achieve younger more radiant skin at Vitality Centre.
Dublin Vitality Centre provides probiotic enema implants. Probiotic enemas are the best way to implant gut flora directly into the bowel says the internationally acclaimed gut health author Dr. David Perlmutter (MD).
What Happens During A Probiotic Implant Enema?
A solution of the correct probiotic live gut flora microbiome cultures is held in the bowel and held for a number of minutes. This is always done directly after a session of colonic hydrotherapy for best results because the colonic helps to remove excess Candida and other imbalanced unhealthy gut flora cultures that accumulate on the bowel wall. Very often, it is possible to see the Candida coming away during this treatment of colonic hydrotherapy. It resembles white fluffy cotton wool. During the probiotic implant enema stage, the good gut flora microbiome live cultures have the opportunity to populate deep inside the lumen of the gut or bowel, where it grows and flourishes to restore gut flora. In the absence of the excess Candida (which is removed with the colonic), healthy live gut flora microbiome cultures can grow and become balanced. As recommended by world leading gut health researcher and physician, Dr. Perlmutter, the bestt way to restore gut flora is via a probiotic enema implant directly into the bowel via enema.