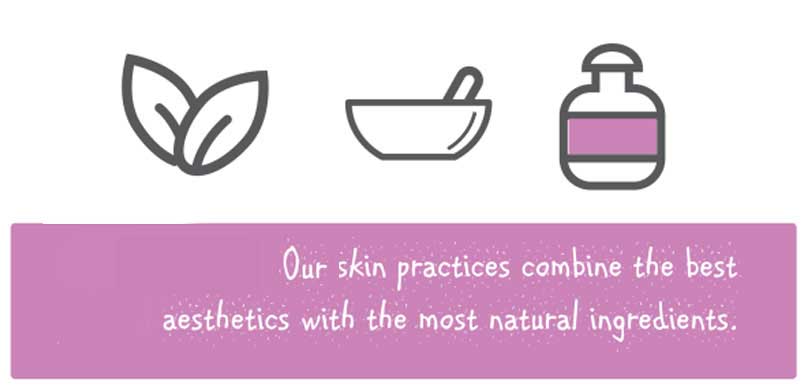 Hair Loss Mesotherapy
Recommended Treatment Plan:
What Is The Best Treatment Plan For Natural Hair Regrowth?
We recommend that you book a hair assessment to determine exactly the hair growth package for you, however, the following is a popular hair growth plan for those who have decided to undergo mesotherapy skin needling to stimulate follicular growth naturally.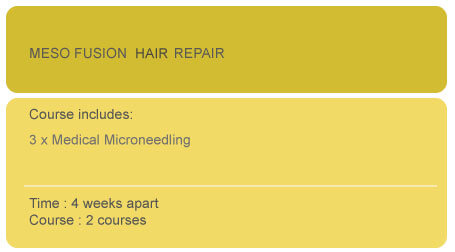 To book a skin assessment, please book any skin treatment mentioned in the plan above. Then email us that you would like us to advise you of a course of action for your skin. We will do this at your first appointment with us.
Hair Loss Treatment | Dublin Vitality Center | Follicular Hair Rejuvenation Therapy
Suitable For: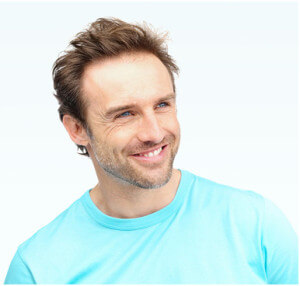 Alopecia Areata
Temporary hair loss
Hair loss due to medication (after radidation or chemotherapy)
Thyroid function related hair loss
Stress related hair loss
Nutrition related hair loss
Before hair transplant
To Establish if follicle is dormant
To thicken hair
To stimulate hair growth
What Causes Hair Loss
Although stress can cause temporary hair loss, permanent hair loss is usually unconnected to stress. If permanent hair loss is present, the scalp appears shiny and it is impossible to see the follicles. But if the follicles can be identified then they may be dormant and still active. In this case, hair loss treatment known as follicular hair rejuvenation therapy is carried out progressively over a number of weeks.
There are different types of alopecia or hair loss, but the most common form of significant localised hair loss is alopecia areata, which is an autoimmune disorder. Alopecia areata is temporary, but there is no way of predicting regrowth. That is why very often follicular hair rejuvenation therapy is used to enter into the follicle and awaken it. This can be thought of as "poking" a sleeping person in order to wake them up. In the case of follicular hair rejuvenation therapy this "poking" is carried out by a needling device which enters deep into the follicle to activate it. The micro perforation created by this action then become the entry point for a topical hair growth application which is the provided for home use in the weeks following.
What Is Alopecia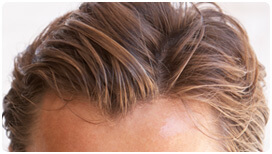 Alopecia, the partial or complete loss of hair, most commonly occurs on the scalp as well as bearded areas, eyebrows, and . Very often immune disorders cause temporary hair loss along with some medications (such as chemotherapy and radiation) and certain skin diseases.
Hair-transplant procedures continue to be sought by those with androgenetic hair loss. The results have been encouraging, especially with the addition of micro-needling to increase the degree of microscopic follicular damage. Very often hair surgeons wish to determine that the follicles are dead not dormant before they will perform hair transplant surgery. If the hair transplant is performed on an area where the follicles are still active, they may later grow. This causes unnatural looking hair growth patterns and is one reason why surgeons dont perform the treatment on very young men. Follicular Hair Rejuvenation Therapy is therefore recommended for men and women who are deemed too young for hair transplant surgery because their hair loss is likely to be temporary. And for those who have been told that the hair will grow back in time. You may also find the combined benefits of Biotin, Vitamin E from rich Wheat Germ Oil sources a natural boost to help hair to grow thicker and stronger. This combination of vitamins is available exclusively at Vitality Center Ballsbridge Tel: 01-9018359
A Progressive Hair Growth Treatment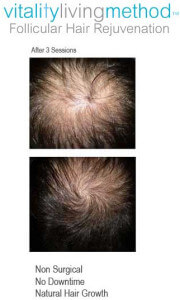 While men and women are seeking hair loss treatments that offer immediate results , follicular hair rejuvenation is progressive. That is because the follicle must grow approximately 1 cm before it can be seen on the scalp surface. A take home topical hair growth product is applied by the client during the treatment intervals on a daily basis. Micro-Needler/Derma Roller is a hand held skin roller which has is applied to the follicles to "wake them up". It is highly effective for the treatment of temporary baldness and dormant follicular rejuvenation. You may also find the combined benefits of Biotin, Vitamin E from rich Wheat Germ Oil sources a natural boost to help hair to grow thicker and stronger. This combination of vitamins is available exclusively at Vitality Center Ballsbridge Tel: 01-9018359
Nutritional And Detox Support For Hair Loss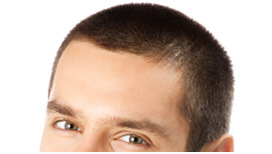 Although hair loss can be caused by many other variables, lack of proper nutrition will assuredly cause hair loss in many . That is why detox with colonic hydrotherapy and liver flush enemas often accompany the treatment. The Vitality Living Method 14 Day Detox Diet Plan removes wheat, meat, dairy and gluten from the diet and offers increased nutrients to the body. It is a highly successful nutritional programme for those who have been on medication and wish to offer their body the best recovery plan. You may also find the combined benefits of Biotin, Vitamin E from rich Wheat Germ Oil sources a natural boost to help hair to grow thicker and stronger. This combination of vitamins is available exclusively at Vitality Center Ballsbridge Tel: 01-9018359